NEW SECURITY FEATURE

We would like to inform our clients of a new security feature which will be introduced to our online banking. As from Monday 10th May 2021 clients will receive an alert via SMS whenever a new beneficiary template is created.

Welcome to the Gibraltar International Bank website

SCAM ALERT

Have you received a message from 'GIBINTBANK' or 'GibIntHelp' pretending to be from Gibraltar International Bank?

If so, do NOT click the link – it is a scam.

Click here for some useful hints & tips!

COVID-19

Following the announcement on Saturday 2 January 2021 regarding additional restrictions to deal with COVID-19, we are making various changes to ensure customers and colleagues remain safe through this period. Please see details under our COVID-19 tab.

If you are between 13-19 years old you are eligible to apply for our Teen Account which will assist you in learning how to manage your money

Are you looking to further your studies?

If so, why not open a Grad Account with us which offers a Grad Loan to assist with ongoing student expenses

Are you looking to give your child a head start in life?

Our Young Person's Account will allow you to build up savings for your child until they turn 19

We will find a business loan to meet your aspirations and means
NEW SECURITY FEATURE
We would like to inform our clients of a new security feature which will be introduced to our online banking. As from Monday 10th May 2021 clients will receive an alert via SMS whenever a new beneficiary template is created.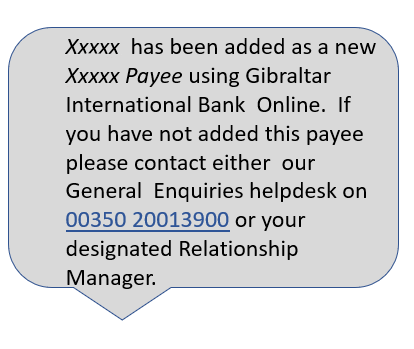 FRAUD & SECURITY
Have you received a message pretending to be from Gibraltar International Bank? If so, do NOT click the link – it is a scam. Remember, never enter your online banking details after clicking on a link in an email or text message.
Click here for more helpful hints & tips!
MANAGING YOUR MONEY EASILY
At Gibraltar International Bank we believe that managing your money easily is key. We have invested in state of the art technology to ensure that your experience in banking with us is as pleasant and hassle free as possible.